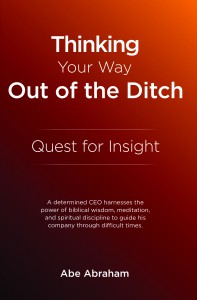 Thinking Your Way Out of the Ditch
CEOs face many challenges as they guide their team to accomplish the objectives of their organizations. Where to go to seek wisdom is often unclear, the process is frustrating. We search for that artisan who can reveal to us the hidden things of life, both personal and business.
In running our businesses, we often come across and solve many problems, some big, others small-all testing our ability to innovate and survive. But then comes a time when whatever we do just does not produce the desired result and we are left to despair. The first step towards wisdom is an earnest desire for discipline.
Thinking Your Way Out Of The Ditch is an inspiring work addressing the daily issues small businesses, especially federal contractors face as they confront a new environment of government regulations that makes it extremely difficult to provide decent service and make modest profit—today it is all about doing more for less—unrealistic and unsustainable over the long haul.
These and many other issues are addressed humorously in this quick read book by Abe Abraham, President/CEO of CMI Management, Inc., a 30-year old organization that provides business solutions for federal programs ranging from Facilities Management to Admin support, Records Management and Workforce Development. You may review the book online or a personal copy by clicking on the Amazon link below.

Author Hits the nail on the head
"With over two decades of operating in the government space, I'm highly recommending this book to those who are considering a business in government contracting and those who are growing their government contracting business."
-Amazon Customer
---
I HIGHLY RECOMMEND IT
"As a business owner for over 20 years and currently in government contracting, I thought this book quiets the noise of government speak and provides a genuine insight into the challenges one faces as a government contractor. More importantly, it elevated my "Emotional Intelligence", ways to strengthen my resolve, see risks and pitfalls and being very realistic about the government contracting journey."
I highly recommend it.
Fred.
---